The dates of the 19th Annual Tennessee Renaissance Festival for May 2004 are the
weekends of May:
May 1st through the 30th, and includes Memorial Day, May 31st.
We 'ave an extra week's end!!!


The hours will be 10 a.m. 'til 6 p.m., Rain or Shine!


Ticket prices in 2003 included tax and were as follows:
$14.00 for adults,
$11.00 for Senior Citizens (62+),
$6.00 for children 6-12,
New for 2003 was ... $12.00 for US Military Personnel (must have photo I.D.),
Children 5 and under get in Free.


For those of you who like to go often,
tis common for a Season Pass to be offered for $45.00.
(Photo ID is required at the gate.)

Advance tickets may be purchased via mail with a check or money order
OR
over the phone with Mistress Visa or Master Card
Pray, add $1.00 for postage and handling.

Address of the festival is:
Tennessee Renaissance Festival
2124 New Castle Road
Arrington-Triune, TN, 37014
(615) 395-9950



Also offered were special prices for advanced tickets from participating
H.G. Hills stores:
$12.00 for adults,
$10.00 for Senior Citizens,
$5.00 for children 6-12


The Tennessee Renaissance Festival is a wondrous place for learning and for fun. There will be a special School Day, which was on May 2nd. Classes are welcome and specific information for schools can be found at the official site

If you need further information nay suppied 'ere nor on the Official page,
feel free to call (615) 395-9950.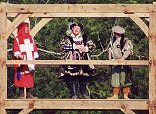 The festival is held in Triune, Tennessee which is located in between Franklin and Murfreesboro, TN, 23 miles from Nashville.
The festival site is off of Highway 96, on New Castle Road.

If you have been to the Festival in the past
and/or are familiar with the area,
the Festival grounds are across from the castle on New Castle Road.

For those of you who aren't familiar with the area, directions are:
I-65 south to Highway 96 (exit #65),
12 miles east (left) to New Castle Road,
OR
I-24 to Highway 96, 8 miles west (right) to New Castle Road.
Just follow the signs...and watch for Deputies directing traffic.

A map can be found here.
This map is on Yahoo and can be customized to fit your needs.
You can obtain Driving Directions from your house to the Tennessee Renaissance Festival grounds here!


Tours of Castle Gwynn and the museum of swords and armor will be available. Tours are free with festival ticket purchase. Have your hand stamped at the front gate so you can re-enter the festival, then go out the front gate and meet the bus that will take you across New Castle Road to the castle grounds.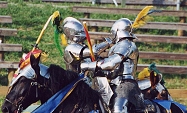 The Free Lancers will be jousting for our entertainment. Get ready for some serious jousting! Don't be too surprised to see BOTH knights unhorsed, only to go after each other and fight on foot! HUZZAH!!!


Axel, the Sot, is spreading merriment and sloshing his ale again this year! Catch his witty limericks and songs at the Hammerbeam Inn.
The Minstrels of Mayhem, The Roses, Shakespeare's Chicken, the Naughty Nymphs, Lady Ophelia, Lady Ettie, and other musicians are strolling through Covington Glen sharing their music with us.
Ah, and dinna forget the men in kilts, Blue Celtic Grass, who played a bit last year. If ye wish to hear more of their music click here.
Be sure to give a listen to all the wonderul musicians...you will not be disappointed!
(Mayhap one minstrel will be so inclined as to serenade ye whilst
ye stand the middle of the path turning many shades of crimson :P~~)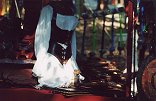 There are many merchants on hand hawking their wares of jewelry, clothing, ceramics, leathers, and plenty of hearty food and drink. Grab a turkey leg, a tankard of specialty homemade lemonade, and mayhap even a funnel cake. Then take the step, lay your coin for clothes, and join us on the other side!

Come and cheer on your favorite side of the chess board
at the Living Chess Match. Remember,
"Blood make the grass grow! KILL, KILL, KILL!"
*guiltily lowers gaze* Aye, I know. We be nay supposed to shout that anymore...
*raises eyes* Though...who shall stop us?? *grins*
Photographs of the Chess Game may be found here!
Between all of this and the antics of the local villagers, you never know what may happen!!! You may be caught by a Kissing Wench or your hand may be kissed by a Knight in Shining Armour! :::wink:::

Entertainment Schedule for 2000


The Themes for 2004 will be updated shortly.
Themes for 2003 were as follows:

The first weekend of the festival (May 3rd and 4th) was
"Honorabel Family Weekend"!
Two grandpaerents and two children had free admission with a paid adult

The second weekend (10th and 11th) was
"Mistress of the House - M'Lady's Days"!
The first 500 mothers that attend on Mother's Day will received a festival souvenir!

The third weekend (17th and 18) was
"Making Merry for Many":
A sack of canned goods (minimum 4) to benefit local charities did bag ye a free festival souvenir as well as a $2.00 off coupon for any festival related purchases at the information booth. (Where the T-shirts, flags, mugs, etc. are sold.)

The fourth weekend (24th, 25th, and 26th) was
"Celtic Weekend":
They didna 'ave the competion this year though there still was grand music!
HUZZAH to Blue Celtic Grass for winning this competition at the festival in 2003!


As always....
Patrons are encouraged to come in costume!
Weapons are allowed, but must be peace-tied. NO firearms.
Pets are allowed if on a leash.
Stroller and Wheelchair Accessible
Free Parking
For links to great Elizabethan / Olde English costuming and language sites, try
Dress for the Fest
Blue Celtic Grass
Give a listen to their music!
The OFFICIAL Tennessee Renaissance Festival Site

The New Castle Players Guild of The Tennessee Renaissance Festival

C. Jarvis, a New Castle Player, has a site of Photographs from the 16th - 18th Annual Festivals as well as rehearsal shots and photos from the Alabama Festival

For lists of other Renaissance / Medieval faires and festivals across the nation, check out
The Scribe Network Homepage.

Back to top of page




Send a missive to Lady Minuet

Please send a missive if you have any additional information, photographs, or webpages about this festival that should be posted. If you have any questions, I will do my best to find an answer for you, or at least lead you to the right contact.

This is an unofficial page and the information may at times need updated. I be a patron of the festival and have made this page out of admiration of the abilities of the participants and because of the sheer fun I have at the festival!
Many thanks to the wonderful folks of
The New Castle Players Guild of The Tennessee Renaissance Festival
and to the Lady of the Telephone at the TN Ren number for keeping me up to date.